Contract Research Organization (CRO) - A New Destination for a young Pharmacist
Posted on 5 September, 2021
Tags: Pharmacy 2021 Summar Primeasia
---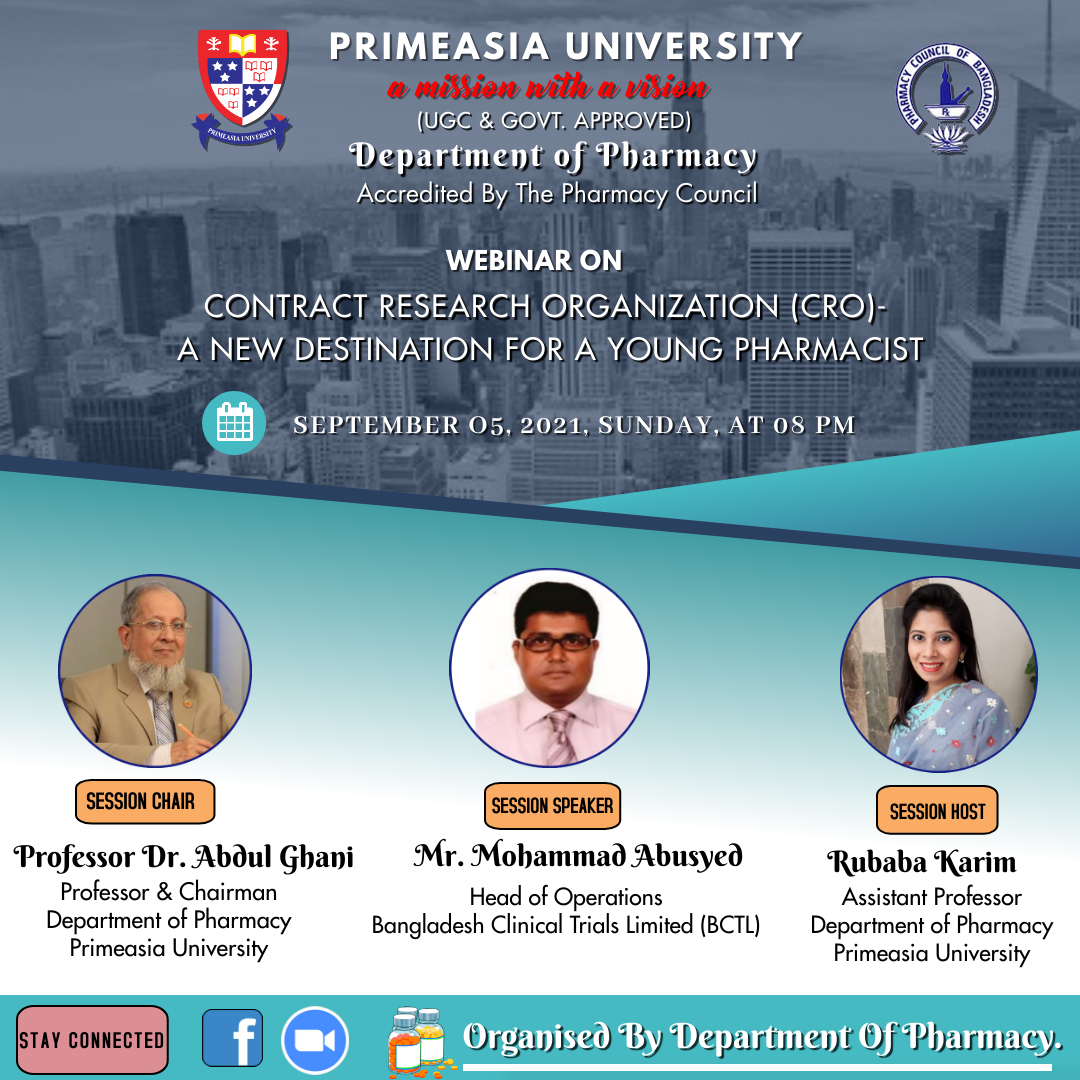 ---
The Department of Pharmacy, Primeasia University, organized a webinar session on the topic "Contract Research Organization (CRO) - A New Destination for a young Pharmacist" on Sunday, 5th September, 2021 at 08:00 PM. The webinar was Chaired by Professor Dr. Abdul Ghani, Chairperson of the Pharmacy Department, Primeasia University and hosted by Ms. Rubaba Karim, Assistant Professor, Department of Pharmacy, PAU. Mr. Mohammad Abusyed, Head of Operations, Bangladesh Clinical Trials Limited, attended the Webinar as the Keynote speaker. Almost all the teachers, officers, staff and students of the Pharmacy Department and some guests from other organizations attended the webinar.
The webinar session was inaugurated with a Welcome address by the department Chairperson, Professor Dr. Abdul Ghani followed by an hour long presentation by the Keynote speaker. During the presentation, Mr. Abusyed discussed the fundamental information about Contract Research Organizations (CRO) including their functions, clinical research activities, market share in Asia and the elevated demand of efficient and credible CROs in Bangladesh with respect to the escalation of pharma industries, clinical trials and large patient pools. He mentioned that high quality, full-suite clinical trial units with associated facilities such as data management, supportive laboratory and trained staff are being established within our country over the last ten years. He also suggested our students that the Clinical Research Organizations of our country are emerging as the potential sectors of jobs for the fresh Pharmacy graduates.
The webinar was further enlightened with the presence of Dr. Wasif Ali Khan (Senior Scientist at ICDDR,B), Dr. Elias-Al-Mamun (Chairman and Professor, Department of Pharmaceutical Technology, University of Dhaka), Mr. Ali Hossain (Executive Director, Human Resources, JMI Group) and Prof. Sheikh Feroz Uddin Ahmed Chowdhury (Former Chairman & Advisor of Department of Pharmacy, Primeasia University) as special guests who addressed valuable remarks on the growth of CROs in Bangladesh.
The session was concluded with a Vote of thanks by Ms. Taslima Begum, Associate Professor, Department of Pharmacy. Primeasia University.
Popular Tags:
---
Pharmacy
Admission
Orientation
2018
Tour
Fall